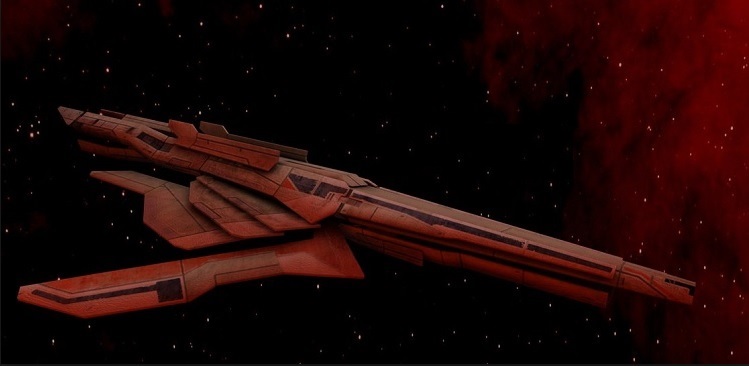 CAPTAIN VOITAN'S LOG:
CREW ROUSER (By Berths):
CAPTAINS CABIN : Captain Voitan (Now officially part of the NEXUS APEX)
OFFICERS CABIN ONE: Dr. Rennab Ecurb & Volus Assistant E-Gor-O-Vich
OFFICERS CABIN TWO: Julli Bowman Human Navigator
OFFICERS CABIN THREE: Blasto (acting publicity Officer) and Quoyle (His Bat Man)
OFFICERS CABIN FOUR: Turian Engineers (2)
OFFICERS CABIN FIVE: Turian Engineers (2)
OFFICERS CABIN SIX: Turian Engineers (2)
Crew Beths: 20 (Various races, half are Turian)
Cargo Bay One: 16 APEX Troopers (Level 6) 8 pilots & 12 flight crewmen (Level 5)
Cargo Bay Two: Dr. Rennab Ecurb & Volus Assistant E-Gor-O-Vich and their Faber Lab
Shuttle Bay One (Cargo Bay Three): 4 SX3 Ai Star Fighters
Shuttle Bay Two (Cargo Bay Four): 4 SX3 Ai Star Fighters
Voitan's Exile Star Fighter, Nomad, Stretch Kodiak placed in storage on AYA.
Computer Core : empty Geth recharging station
TOTAL EXP SO FAR during the 3rd Campaign :
PLAYER CHARACTERS: 57,368 +1000 (LEVEL 9)
Julli Bowman & 16 APEX TEAM MEMBERS : 28,984 (LEVEL 7)
The Rest of the crew
= 25,784 (LEVEL 7)
Current cash reserve: 81,695 + 5,000 Cr (MWG) & 3 Angaran Crystals
Current PARAGON Points: 30 +1
Current RENEGADE Points: 9
MASS EFFECT ANDROMEDIA 2820
05/07/2020: Voeld Orbit
Chapter 4
Opening Scene:
NSS Blood Talon approaches the planet Voeld...
Aftermath of the Space Battle of Voeld
AI & Angragan

Damaged

Destroyed

KETT

Damaged

Destroyed

Blood Talon FG

BCF (1)

Tempest SRL

BCs (7)

7

Princeton SRs

3

1?

DSs

(16)

1

Kowloon ACVs (6)

Interc. (192)

28

138

Themis AGs (12)

SX3 SFs (104)

10

11

Phantom ASs (99)

4

70

Wraith SBs (51)

5

4
Scene One:
Director Tan contacts the Blood Talon that the Quarian Path Finder Ship the Reegar went down over Voeld. He asked Voitan to investigate. The perceptive Turian that he is, Voitan believes Tan is holding something back in the communication over the QTC. He still agrees to investigate the loss of the Reegar.
Scene Two Voeld Orbit:
The Kett have dropped about 8,000 to 10,000 troops on the opposite side of the planet from Ai colony Voeld-1 at the abandoned Kett fortress, known as the "Cathedral". Unfortunately the Reegar went down in that vicinity.
Voitan contacted the Human Pathfinder Scott Ryder (the head pathfinder) and gained some information about the Quarian Pathfinder: Telem'Yered Vas Reegar. He is fanatically Anti AI and Anti Geth. He is the only Path finder without a SAM implant. They also find out that Telem wanted Voitan's crewmen "2nd Legion" destroyed when he found out about its existence. When he was told that "2nd Legion" had disappeared shortly after the Blood Talon docked he went into a rage. Tan almost had him relieved of his new command, BUT the situation with the Kett forced him to reconsider. This is why Ryder thinks Tan is happy the Quarian Pathfinder is "Dead".
Scene Three Voeld: The Reegar "Crash Site"
Voitan, Dr Ecurb and E-Gor-O-Vich take SX3 star fighters down to the surface of Voeld to look for the wreckage of the Reegar. They find a pile of junk with the NSS Reegar's transponder half buried in a snow storm. They discover that the junk and transponder are a RUSE! The Quarian Pathfinder has gone AWOL with his ship and crew. Voitan decides to pursue the missing Quarian (And his missing Geth) and let Ryder take over the Allied fleets chasing the Kett to Shojaon. He gives Tan the bare minimum of the truth in his report back to the Nexus. Then Voitan takes the Blood Talon to Aya. He lands the Frigate there 42 hours after the Space Battle over Voeld and is welcomed to a hero's parade.
Aftermath of the Space Battle of Voeld
Star Ships still on Planet
| | | | |
| --- | --- | --- | --- |
| AI & Angragan | Number of ships | KETT | Number of ships |
| Kowloon ACV | 1 | DSs | 15 |
| Themis AGs | 2 | Interceptors | 28 |
| SX3 SFs | 8 | | |
| Phantom ASs | 29 | | |
| Wraith SBs | 16 | | |