T3+1
TECHNO-THRILLER TOMORROW +1
CURRENT CONFLICTS: SYRIA
It's the day after tomorrow and the world is still a "Troubled" place. This is a D20 Modern PLUS e5 in the Techno-Thriller Genre set in the day after tomorrow.
This information is a up to the last month (FEBRUARY 29TH 2020)listing of the situation in Syria.
IT WILL CHANGE both with the progression of the campaign past POINT ZERO AND the progression of the Real World in Real time.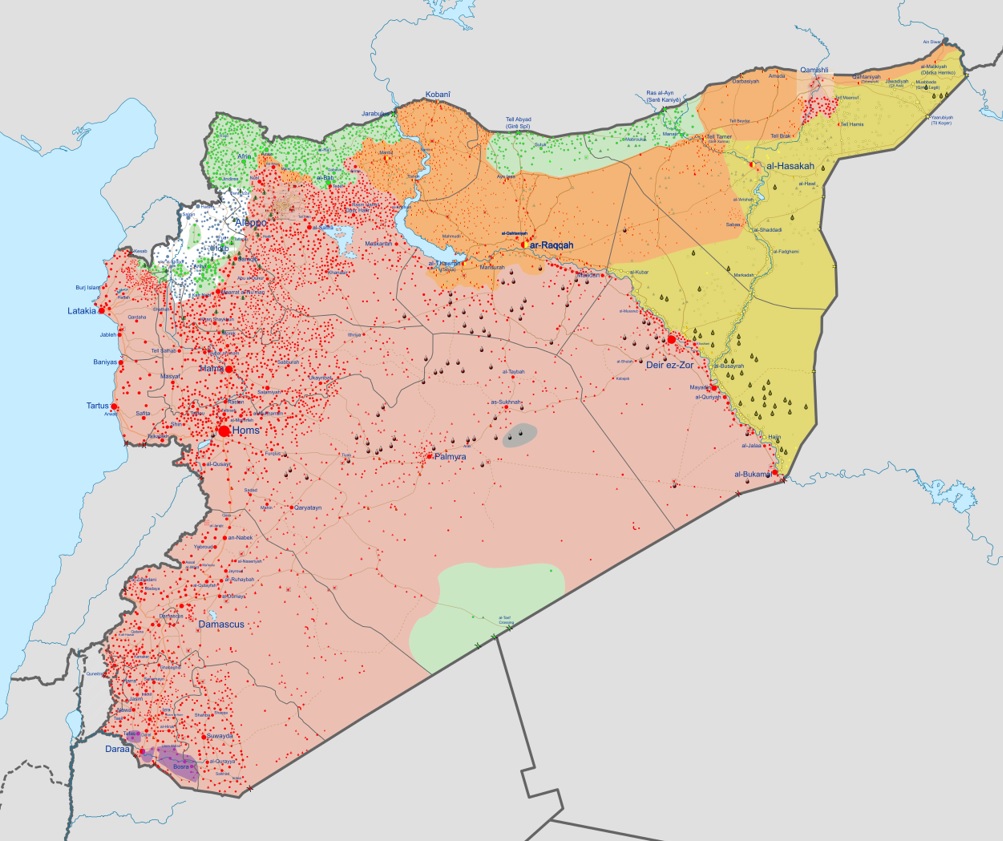 Military situation in February 2020:
MILITARY SITUATION ON FEBRUARY 29TH 2020 (Source: Syrian Civil War, https://en.wikipedia.org/wiki/Syrian_civil_war)
The Syrian Civil War
The war began with the "Arab Spring" protest in 2011. ISIS/ISIL declared their caliphate while conquering parts of both Syria and Iraq in 2014.
American involvement began shortly after that with an international (CJTF-OIR) coalition. The Russians, entered into the conflict in 2015 in support of Assad.
As of February 29, 2020 there are 6 main belligerent Forces.
Asaad's Syrian Arab Republic

Syrian Opposition Government

ISIS/ISIL Caliphate

Syrian Democratic Forces

(Mainly the Kurds)

CJTF -OIR

Israeli occupied Golan Heights

Syrian Arab Army

Hezbollah

Iran

Russia

Syrian National Army

Turkey

ISIS

PKK

USA

UK

France

Jordon

Israeli Army

Supporting Countries

USA

Syria (A)

Russia

France

Territory Controlled

66%

10%

1%

14%

8%

1%
Force Levels
Assad's Syrian Republic
Syrian Arab Army: 142,000
Syrian National Defense: 80,000
Liwa Fatem Brigade 20,000
Liwa Abu Abbas Brigade: 10,000
Hezbollah: 8,000
Liwa Al-Quds: 8,000
Russian: 4,000 (+1,000 private mercs)
Iran: 5,000
Pro Assad Militias : 20,000+
Total: 298,000
Syrian Opposition Government
Free Syrian Army: 32,000
Islamic Front: 70,000
Ahrar Al-Sham: 20,000
Tahrir Al Sham: 30,000
Turkish Armed Forces: 8,000
Small Militias : 12,000+
Total: 172,000
ISIS
ISIS Army: 3,000
SDF
PKK SDF: 10,000
YPG & YPJ : 30,000
Al-Sanadid: 4,000
Small Militias( Syriac Military Council/MFS) : 1,000
Total: 45,000
CJTF-OIR Israeli Occupied Golan Heights
US Army: 600 Israeli Golani Brigade: 2,000
UK SAS: 100 Israeli Settlers (many armed): 22,000
FFL: 100 UNDOF (UN Peacekeepers):1000
Jordanian Army: 100