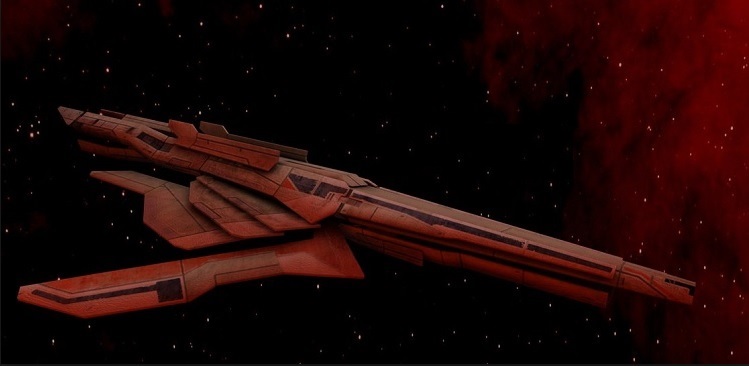 COMMANDER VOITAN'S LOG:
CREW ROUSER (By Berths):
CAPTAINS CABIN : Commander Voitan
OFFICERS CABIN ONE: Dr. Rennab Ecurb & Volus Assistant E-Gor-O-Vich
OFFICERS CABIN TWO: Julli Bowman Human Navigator
OFFICERS CABIN THREE: Blasto (acting publicity Officer) and Quoyle (His Bat Man)
OFFICERS CABIN FOUR: Turian Engineers (2)
OFFICERS CABIN FIVE: Turian Engineers (2)
OFFICERS CABIN SIX: Turian Engineers (2)
Crew Beths: 20 (Various races, half are Turian)
Cargo Bay One: 16 APEX Troopers (Level 6) 8 pilots & 12 flight crewmen (Level 5)
Cargo Bay Two: Dr. Rennab Ecurb & Volus Assistant E-Gor-O-Vich and their Faber Lab
Shuttle Bay One (Cargo Bay Three): 4 SX3 Ai Star Fighters
Shuttle Bay Two (Cargo Bay Four): 4 SX3 Ai Star Fighters
Voitan's Exile Star Fighter, Nomad, Stretch Kodiak placed in storage on AYA.
Computer Core : empty Geth recharging station
TOTAL EXP SO FAR during the 3rd Campaign :
PLAYER CHARACTERS: 35,368 + 22,000 = 57,368 (LEVEL 9)
Julli Bowman & 16 APEX TEAM MEMBERS : 17,984 + 11,000 = 28,984 (LEVEL 7)
The Rest of the crew
14,784 + 11,000 = 25,784 (LEVEL 7)
Current cash reserve: 81,695 Cr (MWG) & 3 Angaran Crystals
Current PARAGON Points: 30
Current RENEGADE Points: 9
MASS EFFECT ANDROMEDIA 2820
04/30/2020: Fetun station
Chapter 3
Opening Scene:
NSS Blood Talon awaits the arrival of the Ai NEXUS
and Meridian Fleets to arrive at AYA.
Its been a week since Voitan and his crew discovered
the danger to AYA, and the Turian Frigate has had another
of its cargo bays upgraded to a shuttle bay,
paid for by the NEXUS in preparation to carry eight
SX3 Star Fighters coming out with the Ai Fleets.
Blasto is broadcasting his latest installment of
"Andromedia Quest"
(In which Blasto takes out a platoon of Rookaar on
Fetvun V Station) when…..
a distress call comes in from the Nol system. The Planet
Voeld is under attack by the Kett.
As soon as the Ai Fleets arrive, they, the Blood Talon and
51 Angaran Wraith Star Bombers leave for the 36 hour run
to the Nol System
They arrive to find the system under seige by the Kett. They
add 99 more Angaran Phantom attack shuttles and a battle
ensues to free the system.
Voitan in the NSS Blood Talon engages the Kett Overlord
PRIMUS commanding the Kett flagship Verakan and forces
her to disengage!
Scene Two: Space Battle of Voeld
AI & Angragan

Damaged

Destroyed

KETT

Damaged

Destroyed

Blood Talon FG

BCF (1)

Tempest SRL

BCs (7)

7

Princeton SRs

3

1?

DSs

(16)

1

Kowloon ACVs (6)

Interc. (192)

28

138

Themis AGs (12)

SX3 SFs (104)

10

11

Phantom Ass (99)

4

70

Wraith SBs (51)

5

4
Scene Three:
Director Tan contacts the Blood Talon that the Quarian Path Finder Ship the Reegar went down over Voeld. He asked Voitan to investigate. The perceptive Turian that he is, Voitan believes Tan is holding something back in the communication over the QTC. He still agrees to investigate the loss of the Reegar.